Evening – Medical Interpreter Training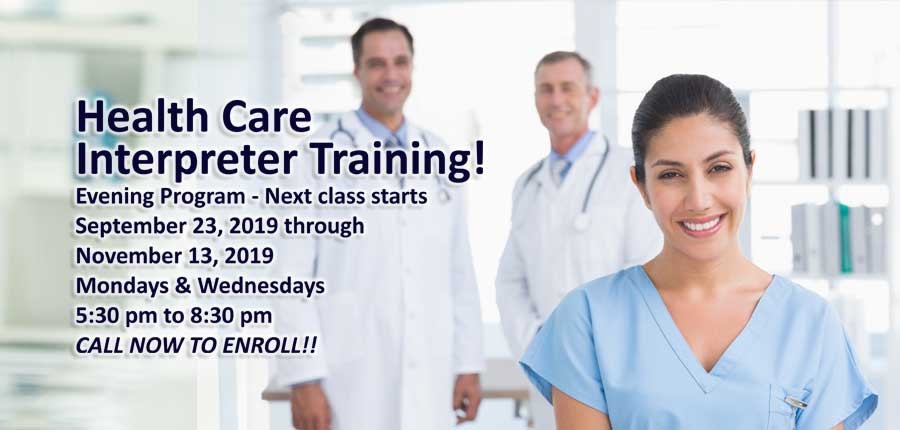 SEFLA Languages also offers the Healthcare Interpreter Training Certificate course in the evenings, for students interested in becoming medical interpreters. This professional training course, designed by our team of American Translators Association certified translators and interpreter trainers, addresses the language barrier between physicians and LEP (Limited English Proficient) patients. We are determined to help our students become successful medical interpreters to meet the high demand for skilled interpreters in San Antonio.
Our next class starts Monday, September 23, 2019 and meets on Mondays and Wednesdays from 5:30 pm to 8:30 pm. Click here to learn more.
Excelente la metodología que usan gracias a este método pude aprender mucho en muy poco tiempo, los profesores son excelentes tienen una gran calidad humana y se preocupan mucho por los estudiantes, emplean diferentes medios para que los alumnos puedan aprender.
Mil gracias por todo.
SEFLA is very professional and it meets my needs.
Lupita Retteghieri is an excellent, outstanding teacher!
Excellent location!
I would like to continue studying at SEFLA because it is an effective professional instruction.
Had a great learning experience, I feel pretty comfortable speaking Spanish now to my friends and coworkers. I want to continue my Spanish education, and I have learned a lot in a short period of time.
Great teachers, well taught, great environment, fun ! Me and my classmate would like to continue with this teacher, she has a great personality and knows her stuff.
Teaching me the basics to communicate. I want to continue learning more…
I like the learning environment, I have already recommended you. I love my teacher, she is great and if I take another class I would like her as my teacher!
The atmosphere and teaching staff make learning a foreign language an enjoyable process.
I really enjoy the class and I'm excited to continue more advanced classes.
The staff is very friendly and easy to work with. Cost-value of courses are great. The classrooms are clean and well stocked. Great school – great people – great facility.
I am more confident when speaking Spanish.
It was extremely helpful.
Some of my peers would benefit from it.
The teacher was so helpful and understanding.